Linz on the danube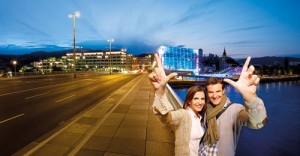 Herzlich Willkommen
beim Linzer Online Treffpunkt, der für Zugereiste, Dauergäste und BewohnerInnen offen steht.
Ganz nach dem Motto "Linz.verändert," finden sich hier Linz-FreundInnen die die Donaustadt gerne bekanntmachen und weiterempfehlen.
Weltruf erlangte die Donaustadt mit der Linzer Torte und berühmt wurde Sie als Kulturhauptstadt Europas 2009. Persönlichkeiten wie Johannes Kepler, Anton Bruckner oder Adalbert Stifter prägten die Entwicklung der Stadt.
Linz hat sich von einer Industriestadt zur wirtschaftlich erfolgreichen Kulturmetropole mit rund 50 % Grünanteil entwickelt. Die Stadt ist Bühne für Theater und Musik sowie für zeitgenössische Kunst, Geschichte und Wissenschaft. Neben historischen Stuckfassaden finden sich Glasbauten, die das Donauufer hell erstrahlen lassen.
Ziel der Gruppe
ist es sich zu vernetzen und auch andere von Linz als Tourismus-, Kultur- und Wirtschaftsstandort zu überzeugen.
In der Gruppe herrscht das im Geschäftsleben üblichen "Sie", einem Kontakt das "Du" anzubieten bleibt jedem selbst überlassen. Wir behalten uns vor Beiträge zu verschieben, wenn diese thematisch an anderer Stelle besser aufgehoben sind. Bitte halten Sie sich an die für XING Mitglieder gültigen ABGS

https://www.xing.com/cgi-bin/user.fpl?op=tandc
und an die XING Verhaltensregeln

https://www.xing.com/help/hilfe-und-faq-2/wie-nutze-ich-xing...
.

http://www.linztourismus.at

http://www.linz.at/botschafter

http://www.youtube.com/linzbewohnerin

http://www.flickr.com/linz_inside

http://www.facebook.com/linz.austria

http://www.twitter.com/linz_inside

https://plus.google.com/u/0/110014173723224866433/posts
About the XING business network
Welcome to the Linz on the danube on XING, the business network for professionals. Linz on the danube is one of thousands of groups on XING, where millions of members from over 200 countries around the world can share expertise and make contact. Join Linz on the danube and discuss interesting topics with experts and similarly minded professionals.
Statistics
Group exists since:

16 May 2008

Members in this group:

4,007

Posts in this group:

1,645

Languages:

German
Moderators