Hamburger Gesellschaft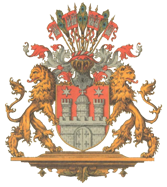 Um hier Mitglied zu werden, muss mann entweder einen Antrag stellen ( wobei es hilfreich ist, wenn man Freunde hat, die hier schon Mitglied sind und eine Empfehlung aussprechen) oder man wird eingeladen.
Die Hamburger Gesellschaft ist eine Gruppe, die dem Nachtleben von Hamburg und der Eventszene neuen, noblen und auch nordischen Wind gibt!
Hier könnt Ihr Eure Wünsche, Vorschläge und Kritiken über Events, Partys und Clubs loswerden.
Ihr werdet hier auch über Veranstaltungstermine informiert.
Viel Spass
Daniel Soumikh

http://www.hamburgergesellschaft.de
About the XING business network
Welcome to the Hamburger Gesellschaft on XING, the business network for professionals. Hamburger Gesellschaft is one of thousands of groups on XING, where millions of members from over 200 countries around the world can share expertise and make contact. Join Hamburger Gesellschaft and discuss interesting topics with experts and similarly minded professionals.
Statistics
Group exists since:

07 May 2008

Members in this group:

1,983

Posts in this group:

236

Languages:

German
Moderators