StayFriends | Schulfreunde wiederfinden
____________________________________________________________________________________________________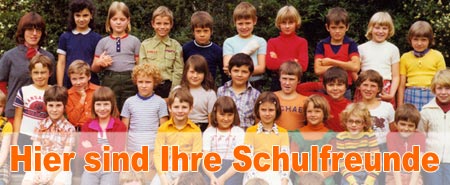 ____________________________________________________________________________________________________
Über "
StayFriends
":

http://www.stayfriends.de
ist eine Plattform im Internet, um Schulfreunde wieder zu finden und zu verwalten.
StayFriends
wächst immer weiter und ist vor allem im privaten Bereich sehr beliebt.
StayFriends
ist nach eigenen Angaben mit 10.886.795 Millionen Mitgliedern und 957.152 Klassenfotos (Stand: 21. November 2010) die Nr. 1 in Deutschland.
Bei
StayFriends
können Sie Ihre alten Schulfreunde finden, Infos über Klassentreffen erhalten und vieles mehr!
Voraussetzung ist, um in dieser Gruppe beitreten zu können, ein aussagekräftiges XING-Profil mit Bild!
Ich möchte die private Identität in Form von
StayFriends
mit der geschäftlichen Identität bei
XING
vernetzen!
Warum also nicht die privaten Kontakte mit den beruflichen Kontakten zusammen bringen?
StayFriends
+
XING
=
Let's start networking!
Wir begegnen uns in dieser Gruppe achtsam und wertschätzend und pflegen ein respektvolles Miteinander.
Bei leichten Verstössen dagegen sprechen wir eine Verwarnung aus.
Bei Störungen, Beleidigungen oder ähnlichem beenden wir die Mitgliedschaft sofort (auch ohne Angabe von Gründen). Eine Wiederaufnahme kann per PN beantragt werden.
In Erinnerung an unsere Schulzeit, pflegen wir auch hier in unserer Gruppe das vertraute "Du".
Herzliche Grüsse und viel Spass in unserer Gruppe wünscht das Moderatoren-Team
____________________________________________________________________________________________________
About the XING business network
Welcome to the StayFriends | Schulfreunde wiederfinden on XING, the business network for professionals. StayFriends | Schulfreunde wiederfinden is one of thousands of groups on XING, where millions of members from over 200 countries around the world can share expertise and make contact. Join StayFriends | Schulfreunde wiederfinden and discuss interesting topics with experts and similarly minded professionals.
Statistics
Group exists since:

15 Apr 2009

Members in this group:

8,256

Posts in this group:

279,657

Languages:

German