Personal information
Wants

Edit Aufträge, interessante Jobs, Kunden für unsere Agentur "Schulenberg und Werbung", Werbeagentur Solingen, Leser, Darsteller, Förderer, Kooperationspartner, Sponsoren, Werbepartner, und andere spannende Menschen für meine "Union der Helden". Käufer, Spieler, und Fragen-Erfinder für unser "Solingen Quiz" Brettspiel, Außerdem: Gute Unterhaltung, alte Bekannte, Kronenkorken
Employment status

Entrepreneur
Educational background
Languages

German

(First language)

, English

(Fluent)

, French

(Basic knowledge)

, lerne gerade Georgisch
About me
Die Webseite von SCHULENBERG UND WERBUNG unserer Werbeagentur in Solingen: 


http://www.schwub.de/ 

Einer unserer zufriedenen Kunden: Die Ed. Wüsthof Dreizackwerke Solingen betreuen wir schon seit über 10 Jahren: Vom Logo über den Katalog, die Verpackungen, die Anzeigen, den Messestand und die Webseite - im Laufe der Zeit haben wir schon einige schöne Projekte gemeinsam umgesetzt.


http://www.wusthof.de/ 

Unser Brettspiel: Das Solingen Quiz
100 Fragen und 50 Aufgaben rund um die Stadt Solingen, mit einem toll illustrierten Spielplan mit den schönsten Sehenswürdigkeiten und 6 niedlichen Spielfiguren. Ein tolles Geschenk für alle Solinger!


http://www.solingen-quiz.de/
 
Neben den Abenteuern für meine Union der Helden konzipiere und realisieren wir bei SCHULENBERG UND WERBUNG auch Comic-Konzepte für Werbekunden. Einen davon kann man sich als pdf auf der Seite der Geschichtsmanufaktur ansehen:


http://www.geschichtsmanufaktur.com/ueberuns/vorstellungscom...
 
Und auch meine ältesten Kunden freuen sich über jeden Besuch:


http://www.violettas-puppenbuehne.de

Mein Lieblingsprojekt: 
Deutschlands erster fotografierter Superheldencomic freut sich über jeden neuen Leser! 
Die Zeit ist reif für neue Helden! Die UNION DER HELDEN!


http://www.unionderhelden.de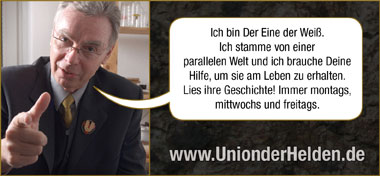 Mein zweites Lieblingsprojekt:
Seit Beginn 2011 baue ich gemeinsam mit Scott Story, dem Macher des Webcomics "Johnny Saturn" ein internationales Superhelden Kollektiv auf: Das COLLECTIVE OF HEROES.


http://www.collectiveofheroes.net/
Search the XING network
Find new business contacts on XING and get back in touch with old contacts!
Other visitors also viewed the following profiles: