Felix
Beilharz
Dipl. jur. oec.
Inhaber
(The company name is only visible to registered members)
Want to know more about Felix Beilharz?
All you need to do is sign up for free on XING.
Sign up for free
Felix Beilharz's personal information
Wants

interessante Kontakte, Kontakt zu Online Marketern, Erfahrungsaustausch, Ideen, externe Promotion

Interests

Marketing, SEO, Fitness, Börse, Musik, NLP, Kraftsport, Humanismus, Online Marketing, Kampfsport, Vale Tudo

Organizations

e-fellows.net, Giordano-Bruno-Stiftung, Humanistische Union, Friedrich Naumann Stiftung für die Freiheit, Siegener Wirtschaftsjuristen e.V., Clusterstar, International Coaching Association, BDVT, DVNLP, Marketingclub Köln-Bonn
Felix Beilharz's professional experience
Felix Beilharz's education
Apr 2012

Fachhochschule Kaiserslautern

Marketing Management, MBA

Marketing-Management

Sep 2006

-

Apr 2007

Escola Universitària del Maresme, Mataró, Spanien

BWL, Marketing, Tourismus

Dienstleistungsmarketing

2003

-

2010

Universität Siegen;

Deutsches und Europäisches Wirtschaftsrecht, Dipl. jur. oec.

Marketing, Wettbewerbsrecht, Markenrecht, Diplomarbeit "Anwaltsmarketing unter Berücksichtigung des Online-Marketing", Note: 1,3
Languages

German, English, Spanish
About Felix Beilharz
Endlich da:

Social Media Marketing. Strategien, Tipps und Tricks für die Praxis.
Strategie-Basics
Strategien für Kundenbindung, Verkauf, Recruiting, usw.
Interviews mit zahlreichen Experten
Beispiele aus B2B- und B2C
Topaktuelle Studienergebnisse
Zur Amazon-Detailseite:

http://amzn.to/smmstrategie
==============================================================

Interview mit Fabian Rossbacher:

http://www.youtube.com/watch?v=QS2l0saG-5U

=============================================================
Momentan leider ausverkauft:
 
Online-Marketing
von Michael Bernecker und Felix Beilharz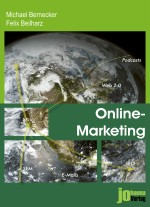 Ein Buch macht Sie zum Profi im Internet! In dem Grundlagenwerk werden alle wichtigen Themenkomplexe des Online-Marketing strukturiert und systematisch behandelt. Ob E-Mail-Marketing, Search Engine Optimization (SEO), Web 2.0, Usability oder Blogging: Dieses Buch eignet sich für alle, die sich fundiert mit dem Thema Online-Marketing auseinandersetzen möchten.











Search the XING network
Find new business contacts on XING and get back in touch with old contacts!