Sybase DBA Network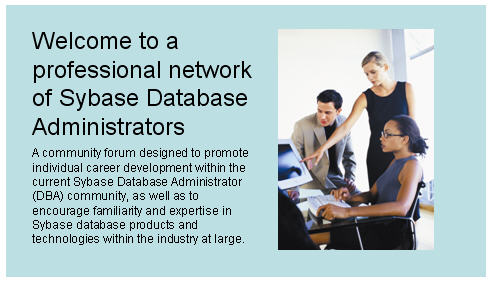 Sybase DBAs: new challenges and opportunities in a growing market
"Sybase continues to see strong adoption for its databases and 2008 was our best year yet, with over 20% growth in new customers in our core products—Adaptive Server® Enterprise, Sybase IQ® and SQL Anywhere®," says Raj Nathan, chief marketing officer for Sybase. "As customers continue to adopt distributed data management strategies we will continue to see growing demands on the number of Sybase certified database professionals in the technology sector." 
What is the Sybase DBA network on Xing?
Sybase has announced the formation of the Sybase® DBA Development Program, designed to promote individual career development, as well as to encourage familiarity and expertise in Sybase database products and technologies. The program will offer database professionals exclusive educational, career development and networking opportunities. The Sybase DBA Network on Xing will serve as the hub for this program.
Why should I join?
As a member of the Sybase DBA network, you will have the opportunity to:
Participate in discussion forums
Receive newsletters announcing events and news of interest focused on career development
Network with other members to share career information and discuss educational opportunities
The program is open to Sybase Database Administrators and those who employ or manage database professionals working with Sybase technologies.  The group encourages membership by individuals who are interested in becoming a Sybase DBA or working with Sybase database professionals in their business.
What is the cost?
Registration and participation is free. Signing up for the group is the first level of participation. By creating a Xing profile with an email address and becoming a member of the Sybase DBA Network group, you are letting us know you are out there and interested. We have the ability to send newsletters to group members (you will need to subscribe to the newsletter on the right hand side of the start page for the group).
After you have joined, we encourage you to visit the forums and introduce yourself. We have an initial set of forums and hope you will take advantage of the opportunity to ask questions, provide comments or just chat. If you would like to share events of interest with the group, feel free to post them in a forum. If you have ideas for new forums, send a message to one of the moderators.
How do I join?
Go to

http://www.xing.com/net/sybasedba
and create your Xing profile. We will monitor requests for membership, and confirm your registration promptly if you qualify. So join today, and be part of a community of like minded individuals who want to expand their knowledge and career opportunities around Sybase's powerful information technology.
About Sybase, Inc.
Sybase is the largest enterprise software and services company exclusively focused on managing and mobilizing information. With our global solutions, enterprises can extend their information securely and make it useful for people anywhere using any device. The world's most critical data in commerce, finance, government, healthcare, and defense runs on Sybase. For more information, visit the Sybase Website at

http://www.sybase.com
.
About the XING business network
Welcome to the Sybase DBA Network on XING, the business network for professionals. Sybase DBA Network is one of thousands of groups on XING, where millions of members from over 200 countries around the world can share expertise and make contact. Join Sybase DBA Network and discuss interesting topics with experts and similarly minded professionals.
Statistics
Group exists since:

16 Jan 2008

Members in this group:

651

Posts in this group:

186

Languages:

English
Co-moderators